This weeks Movie Monday post is on Snow White and the Huntsman:
I have been so excited about this movie!!! I've wanted to see it for the longest time! This is the kind of interpretation I love of Fairytales. Especially after the movie Mirror Mirror with Julia Roberts came out. Don't get me wrong, I dont completely hate the happy child oriented fairytale movies, but I definitely dont like them either. I love seeing a dark and gritty version of them. That's why I was so excited to see this movie!
Charlize Theron as the Evil Queen
Kristen Stweart as Snow White
Chris Hemsworth as the Huntsman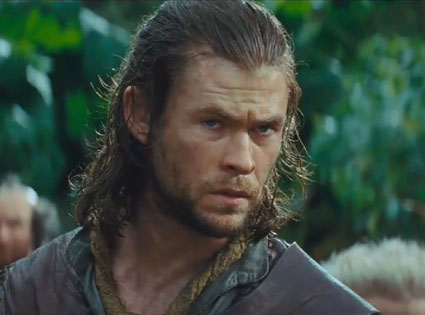 Chris Hemsworth again...this man is so fine its stupid!
What I love about this movie is that it doesnt take forever to get into the story, it jumps right into the action. The Evil Queen Ravenna (played by Charlize Theron) quickly marries King Magnus after defeating an army made of glass who appeared to hold her captive. On their wedding night, Ravenna kills the king and imprisons his daughter, Snow White (played by Kristen Stewart). The land dies and the people of the kingdom begin to turn on eachother. All the while, noone thought Snow White was still alive..when in actuality she was imprisoned in a tower for years. One day she is able to escape and finds herself in the dark forest. As the story develops, we find out that the evil queen has certain powers and she consumes young women in order to preserve her youth and beauty. And like the old fairytale, she turns to her mirror and recites what we all remember, "Mirror mirror on the wall, who's the fairest of them all?" and her mirror tells her that there is one who is fairest, but it is not her. She then learns that Snow White can either be her salvation or her death.
Because the Evil queen has no powers in the dark forest, she must find someone to bring Snow White back to her. She then hires a Huntsman (played by Chris Hemsworth). He is told that he would see his wife again who had died. When he finds Snow White, he finds that they will not uphold their end of the bargain and lets her go. As the story continues he didnt know that she was the princess, but once he does, you start to see a relationship form between the two. They meet the dwarves and I was really hoping that they would sing "Hi ho, hi ho, its off to work we go..." but of course they didnt! (drats!) Snow White is also reunited with her childhood friend that she last saw the night that her father was killed. He apparently loves her and she seems happy to see her old friend, but you can tell that she doesnt feel the same. The group go on an epic trec to the Dukes camp where along the way you see the iconic scene of her eating the apple and then going to sleep. Almost immediately you see that its not a kiss from her long lost friend that will wake her up. No, once they reach the Dukes camp and she is laying in a room, we see the the Huntsman in a sorrowful drunken state. He tells her how he lost his wife and that she reminded him of her, and now he lost her too. He then kisses her and minutes after he walks away, she comes back and rallies the troops to fight at the castle. After the epic battle she defeats the evil queen and she is named queen at the end. Overall I loved this movie. The only complaint I have is the ending! Its obvious that the huntsman is in love with her, and his kiss woke her up. How did she feel about him? Did she care about him? Did she grow to love him?
I loved this movie and I definitely think that they should take a break from making comic books into movies, and make more fairytales into serious, dark movies (except for cinderella...dont want to see that). They should start making movies from Grimm Fairytales...Id love to see what they could do with them! Id definitely watch this movie again, it was really good, action packed, and it didnt seem like there was much down time or empty space.